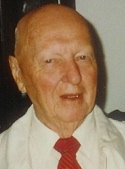 Frank cared deeply for the Doberman. They were the companions that stayed with him through the years until the day he found himself in a health care facility. In his lifetime he wrote hundreds of articles concerning the Doberman. Some referred to him as the "Father of the American Doberman",but at nearly 90 years of age Frank replied, "No, I am still, only a student; I still want to contribute".
We at the A.D.P.E.F. would like to believe that as we strive to create this educational site Frank guided our hands and thoughts. We hope the A.D.P.E.F website will bring back memories to old friends, inspire our Doberman partners and encouraged the newcomer. We can only hope we were able to fulfill Frank's last wish; to allow his words to contribute once again.
Frank's Extensive Accomplishments Include
Exhibitor in Obedience and Conformation 1950- 1975
Owner and exhibitor of five "high in trial" Dobermans
Owner and exhibitor of the first Doberman Pinscher Champion UDT
PRESIDENT of the CHICAGOLAND DOBERMAN PINSCHER CLUB 1954 -1958
PRESIDENT of the DOBERMAN PINSCHER CLUB OF AMERICA 1964-1966
Originator of the plan of the present DPCA CONSTITUTION
Author of first workable rules for the DPCA FUTURITY
Planner of the EDUCATIONAL MATERIALS PUBLICATION PROJECT, DPCA
Originator of the TOP TEN IN CONFORMATION in 1957
Originator of the TOP TEN IN OBEDIENCE in 1958
Originator of the TOP TWENTY IN CONFORMATION in 1974
Originator of the TOP TWENTY IN OBEDIENCE in 1978
Founding Chairman of the JUDGES EDUCATION COMMITTEE 1973-1996
Organizer of the 1982 JUDGES EDUCATION STUDY SESSIONS
Founding member of the CABRILLO DOBERMAN PINSCHER CLUB and the DPC OF SAN ANTONIO
Honorary LIFE-TIME MEMBER of the DPC OF HOUSTON, THE DPC OF AUSTIN, THE DEUTCHE DOBERMANN VEREIN.
Has judged NATIONAL SPECIALTIES and DOBERMANNS in JAPAN, AUSTRALIA, NEW ZEALAND, PHILIPPINES, INDONESIA, BRAZIL, ARGENTIA, VENZUELA, MEXICO, and PUERTO RICO.
Selected to judge Obedience at SIX DPCA NATIONAL SPECIALTIES
Selected to judge Conformation at SIX DPCA NATIONAL SPECIALITIES
Served for five years as PRESIDENT of the DEL MONTE KENNEL CLUB
Served for fifteen years as DELEGATE to the AKC for the FT. WORTH KENNEL CLUB
Organizer of the first OBEDIENCE JUDGING CONFERENCE in Texas
AKC GAZETTE COLUMNIST 1965-1968 and 1979-1996.
Author of many published and reprinted articles on the Breed
Obedience Columnist for DOBERMAN WORLD 1979-1986
Editor of the manual, LEARNING TO JUDGE THE AMERICAN DOBERMAN PINSCHER BY APPLYING THE OFFICIAL STANDARD OF THE BREED
Founder and Chairman of the AMERICAN DOBERMAN PINSCHER EDUCATIONAL FOUNDATION
On the occasion of his judging the 1996 DPCA National Specialty:

To all who have made this show possible and who participate in it: 1996 marks the 100th anniversary of the birth of the eight dogs in Apolda, Germany to whom (according to Gruenig) all Doberman Pinschers trace. Thus this 1996 National Specialty show begins the breed's second century. Thanks for the great celebration!!!!!
Frank H. Grover