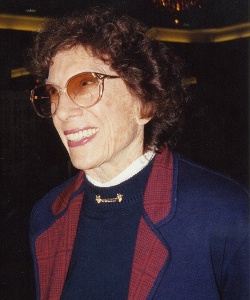 George Sangster best summed up Peggy's character on the occasion of her election as DPCA President in 1972:
"The tribute here is not to Peggy Adamson's many years as a judge, lecturer, or even to the fact that she's been the founder of various dog organizations of worth, but to her tireless devotion which outshines any of her contributions.
At a time when the inner drive to take on such a monumental task would have long since waned in a lesser individual – she continues to move positively forward in her beliefs on the firm foundation of dedication which has withstood all the typical waves of this business down through the years.
In other words, she's been a "stayer" – "Stayer" is the supreme compliment paid by horsemen to the thoroughbred, and is only handed out in rare instances; the "stayer's" race is a long, tough one; when the sprinters are groggy and looking for the finish line, the "stayer" is just settling into his best stride for that long stretch drive that stamps him as a courageous performer – The fainthearted ones rarely can withstand so prolonged a challenge."
Peggy Adamson was referred to as the First Lady of Dobermans or Mrs. Doberman. Education was one of her passions and Peggy was the breed's first publicist.
Peggy was also a collector. Friends were frequently astounded when she instantly produced 30- or 40-year old documents relevant to current conversations. From the beginning of her interest in Dobermans, she searched for early references to the breed. These she carefully saved through the years, as she did almost two tons worth of articles, photographs and magazines. The American Doberman Pinscher Educational Foundation was organized in part to preserve her collection of Doberman-related material as a resource for future generations of the fancy.