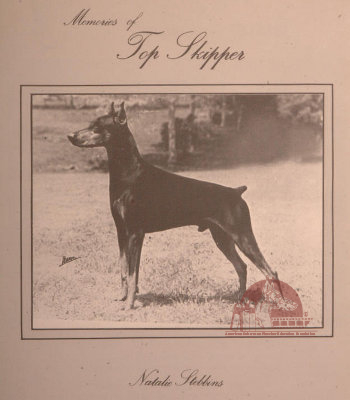 Memories of Top Skipper begin the year I saw Storm and Colonel Jet at Westminster-two great showmen.
Storm – baiting and holding a pose for so long that he seemed like a statue.
Colonel – who never baited – full of vitality – posing himself – yet seeming to be in constant motion.
And I knew that I'd like to have a combination of these dogs.
Then came Bonnet, the Storm – Sikhandi daughter, who was Skipper's dam.
A bitch of superb quality, temperament and personality – whose favorite pastime was stalking flies.
And the Colonel – Bonnet cross produced a litter of four champions
Sea Mist Diablo Treble and
Top Skipper – a prepotent sire of exceptional merit – stamping his get with quality, type, personality and temperament.
His show career was brief but outstanding – Westminster from the classes – Groups- B.I.S. – and Best of the Top Ten.
Possessing great nobility, quality and showmanship – he was a good mover with an excellent front assembly, tailset- and a beautiful arched neck.
As a young dog, he was tremendous bearing and carriage – his topline was usually excellent.
However, when relaxed – at times he appeared to be a bit soft in back – which was never as solid as that of his sires, Colonel Jet, who had the greatest topline and tightest feet I've ever seen.
Skipper's head was a classic one – parallel planes – properly placed almond eyes – with a beautiful, warm, intelligent expression-excellent muzzle – full and proper dentition – but he did have one extra pre-molar.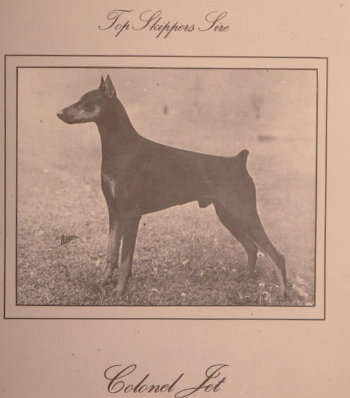 To me, he will always be the greatest….not for any of the above reasons, unless it be for those beautiful eyes through which his spirit, intelligence and boundless capacity for love shone forth
.
It is said that which you love never dies- but I think it is far truer to say that which is full of love never dies- surely he, and all that he was, are still with me as though it were yesterday.
He was noble and proud, possessing no baseness of character, no shyness, no viciousness- yet he instinctively knew the difference between friend and foe – always hoping to meet a friend, while warning those of whom he was suspect that he was there to protect his family.
A character – full of fun – loving all children and most adults; he would quickly discard his dignity whenever I'd rub his brisket – by lying on his back, with all four legs straight in the air, and quietly sighing with each pat I'd give him.
He loved to romp with the children – but, not being able to abide it if they go into any kind of a set-to, would separate them by pushing them with his head and, as a last resort would gently grab an arm with his mouth and pull them apart.
Surely, an Ambassador of Good Will, he quickly made friends with all humans. Once a visitor, uncertain of Dobermans, completely ignored his bids for attention- and Skip absolutely amazed me. When after all his usual ploys had failed – suddenly jumped up, sat on the man's lap, licked his face- and won another friend.
And he was intelligent – a well behaved dog, who had never been given any formal obedience training; yet, one day learned the long sit and down in ten minutes when a photographer came to take his picture.
He quickly learned to open any type of the door – and we had to install slam locks, which were out of his reach, to prevent him from using certain doors. He could let himself in and out of door leading to the back yard at will – this door had a heavy storm door with a lever type handle, and a hydraulic closing mechanism. He would let this door close on his neck while he turned the knob on the inside door to open it- and reverse the procedure when he wanted to go out.
He enjoyed life – being with people – fetching a ball – swimming- playing games.
An all around personality – a showoff – who loved us – and will be with us always –because LOVE IS FOREVER
Natalie Stebbins
1974