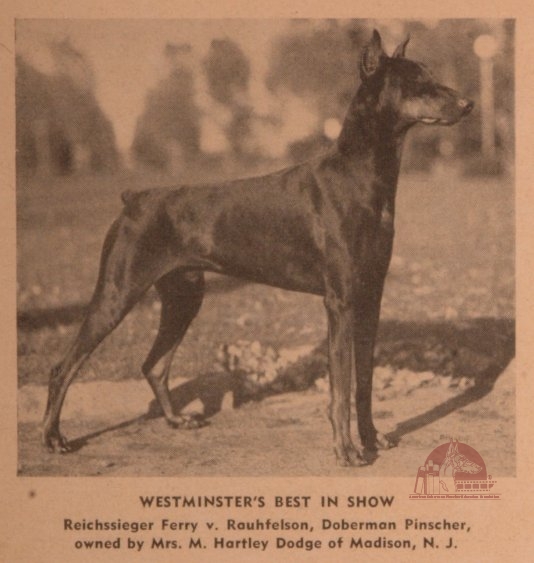 Ferry was born in Germany January 9,1937, a son of Sgrn and Ch. Jessy vd Sonnenhoehe, and Sgr. and Am. Can.Ch. Troll v d Englesberg. In 1938 he became the German Sieger, his sister Freya being named Siegerin at the same show, an unprecedented feat. The pedigree is interesting, because it was the same Muck/Helios cross with which Marienland, Kilburn's, Jerry Run, and Meadowmist were already having so much success .
Geraldine Dodge of Giralda Farms was, at the time, looking for a dog specifically to win Westminster, and had sent her handler, McClure Halley, to Europe to buy the best dog there, regardless of breed. It was reported that she was amazed to find herself owner of a Doberman.
Ferry almost literally arrived in New York just in time to go to the 1939 Garden, and won B.I.S., even though the judge, Mr. Thomas, was unable to touch him. Ferry racked up quite a string of wins for Mrs. Dodge, twelve Bests in Show in thirteen attempts, and it was later claimed that Ferry never went through the classes for his Championship, but was always entered for Best of Breed competition. At that time this would have meant, if true, that he had no points.
Ferry, by all accounts, should have attracted the attention of the breeders in the East at this point, but he seems to have been relatively shunned by the easterners, leaving few litters behind him, while his mother was producing 13 more champions in New Jersey, and his father racking up 48 Bests in Show, 95 Bests of Breed, and 13 champions.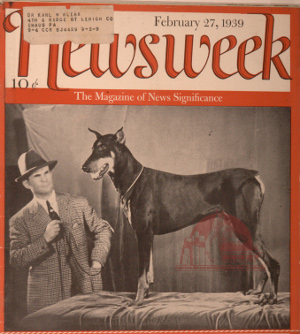 In truth, the Easterners were more than a little embarrassed by Ferry's behavior. The solid core of the DPCA, promoters all, were marketing the Doberman as a great pet, good with children, and Ferry was labeled "a rowdy and vicious one".
This didn't look like the kind of dog Muck, his grandfather, had been purported to produce, and it didn't represent his mother's side of the family well, either. Mrs. Dodge, uninterested in Dobermans, decided to sell the dog, and announced his "retirement", and that she thought he needed a "family of his own".
L. R. "Jim" Randle, of Randahof fame, San Francisco, bought him to replace his Ch. Jockel v Burgund, handed him over to the great Russell Zimmerman, and specialed him all over the West. When Russell couldn't take him, he was shown by Ben Brown. Ben Brown was a huge man, and it seems Ferry tried a few of his old tricks to intimidate Ben, to no avail. When Ben tried to let him out of his crate the first time, Ferry charged, and Ben just shut the door in his face, hard. After three times Ferry decided he liked Ben just fine and they became really good friends. Ben had great admiration for the dog, and names him as one of the best he ever handled.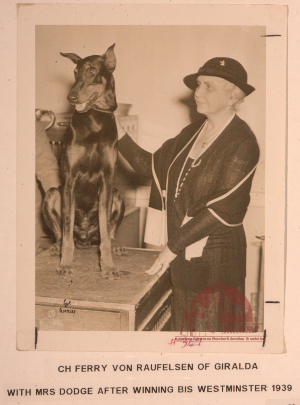 Ferry was used at stud seven times in the west, producing champions for Von Palanka, von Eschen, Rancho Dobe, Nietzelhof,Lakewood and Von Troll kennels. At that time, the early 1940's, the doggy establishment was largely in the east. Western breeders had a great deal of difficulty being taken seriously. Vivian Edwards, Rancho Dobe, believed deeply in Ferry's quality, and set out to prove that her Ferry based dogs could win anywhere.
When Rancho Dobe's Storm won Westminister, Vivian gave much credit to his great- grandfather ( and great-great -grandfather) Ferry. In all, Ferry left seventeen American Champions.
After a string of events that led the Randles to change handler's several times, Ferry ended up in the kennels of one Harold Duffy, and was found in his kennel dead. The autopsy report concluded that he had been beaten to death. He was only six and a half and the Doberman fancy was horrified. Clearly, the "rowdy and vicious one" was not as vicious as some humans.
Much has been written about Ferry's temperament, mostly by people who weren't there, but I think the evidence suggests that we take those comments with a grain of salt. Peggy Adamson tells that she just walked up to him and looked right in his mouth. She evidently wasn't very intimidated by him.
Photographs of Ch. Eric II v Palanka, Ch. Rancho Dobe's Roulette, Primo and Presto, and Ch. Maedel v Randahof do show that Ferry can be credited with producing a more modern shape. He was where the fifties began. Followed with the influence of Storm and Dictator, the type of the Doberman today was created. Whether or not we admire Ferry or are embarrassed by him, Storm was a line-breeding on Ferry, and most modern pedigrees show Storm several times. Coupled with the Eastern pedigrees that are intensively line-bred on both sides of his family, Ferry fit right in, and helped Storm become the strong producer that he was.