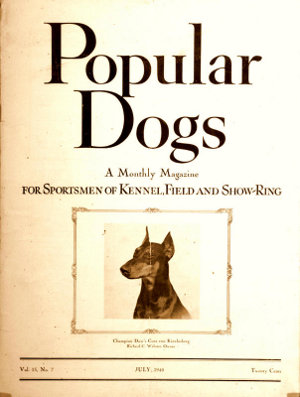 Popular Dogs
A Monthly Magazine
Vol. 13, No.7
July 1940
Doberman Pinschers
Mrs. Rhys Carpenter, Jerry Run, Downingtown, Pa.,
Peter Knoop, 274 Vincent Ave., Lynbrook,
L.I., N.Y.
A hurried note from Mrs. Carpenter has reached me, with the information that she expected to be back in the United States early in June. While in Italy, Mrs. Carpenter was successful in her effort to enter Germany and visit some of the foremost Doberman kennels there. During this visit it was her good fortune to purchase Assy von Illerblick, a daughter of Ch. Gretl v Kienlesberg and sired by Int. Ch. Moritz v Rodeltal. Several of our prominent breeders had made efforts to purchase this bitch before the war started, but were unsuccessful as the owner did not really want to sell her, believing, as did others, that she would have been the Wanderpreis winner had the Sieger show been held. However, due to the present situation in Europe, the owner reluctantly let Assy go, consoling himself in the knowledge that in Mrs. Carpenter's hands she would get the love and attention he felt he could not give her under the circumstances. Having made this most fortunate purchase, Mrs. Carpenter then turned her attention to acquiring a suitable stud dog and again was successful in obtaining Eri ( full name unknown to me at this time), a great grandson of Helios v. Siegestor and Muck v Brunia, as well as a direct descendant of Ari v. Sigalsburg through his best son, Lux von Saumhof.
Congratulations to J. Welch Harriss of High Point, N.C. whose Roland v Huffmanheim, sired by R.C. Webster's Ch. Roland v. Stahlhelm ex Ch. Lady Beda v Hatzenburg, finished for his championship on April 28th at the Baltimore County show under the well known authority, Ralph Miller. This good 19 month old dog then went over the top at the Carolina Kennel Club show on May 18th by taking best in show, which climaxed seven best of breed and two group wins during his short show campaign.
-A.P.K.
The Situation in Germany
News of German Dobermans is difficult to obtain, as most breeders and dogs seem to be in the army, the breeding stock and younger dogs being cared for by parents and female relations. Reichssiegerin Freya v Rauhfelsen, we hear, was successfully bred to Nopper v. Ludwigsburg (which is providing a valuable dog a stud), and the puppies at eight months of age are most promising. I have seen photographs of two of them and they both seem to have the exemplary head of their maternal line.
Ora v. Sandberg's litter brother, Orest, which received a "V" rating at the age of 11 months at the '38 Sieger show, died of distemper last year; from what we hear of him, this was a real loss.
We do not feel that we can get a really frank statement as to the condition of dogs in Germany, and the food problem; but as rations of meat for the average human being are only a little more than one-half pound per week, we believe the problem of feeding large dogs is sure to become acute. From indirect comments we gather that all Doberman kennels were inspected by judges who sent to the army males over two years old, perhaps leaving a few of the better ones for breeding, but of this we are not sure. Prices asked for dogs of the highest rating vary greatly, some being quite low, so we conclude certain breeders are already under pressure. We felt that it would be a splendid thing if we in America could evacuate and thus save the best of the breeding stock from the losses of the last war—not as a help to the Germans, but for the sake of the breed, which should not have to suffer for the brutalities of mankind. To an inquiry addressed to the president of the D.P. C. of Germany on this subject, we received a very courteous reply, part of which is of sufficient interest to quote:
I rejoice that American Doberman friends take such kindly attitude towards our breed, and are thinking of the Dobermans in Germany. This plan, however, can scarcely be carried out because most of our dogs are at present with the army, and their former owners no longer have any control over them. But even if the dogs were not conscripted, I would not be able to endorse any plan for a transfer of Dobermans to the U.S.A. And as long as this war forced upon us remains undecided, even the best dogs should and must be called into service. What we lose in this way, we must put up with. We will build anew after the war.
Note that the bitches, which we particularly suggested evacuating for the duration of the war, are not specifically mentioned. We were also requested not to mention this idea to any of the breeders, which rather suggests that it might meet with their approval, if not admit any possibility of food shortage. Now we can only hope that our breed will not suffer the terrible setbacks of the last war, as described by Grunig: all the more must we carry on, as we can no longer depend on Germany for new blood.
__E.H.C.
Late Flash
On Board S.S. Manhattan—-2000 passengers in accommodations intended for 1,000; 35 dogs (of which five are your correspondent's Dobermans), two cats, and one kitten, in kennel space for 24- the last ship form the Mediterranean, with a most heterogeneous band of polyglot humans to add to the confusion. Beyond a tendency to gang up on the other dogs and turn this all breed show into a Doberman specialty, our five are corporting themselves with all the dignity, composure, and adaptability we expect of our breed; in addition they are providing themselves excellent sailors, with a diplomatic tact in their relations with the ships officers. Johnnie our good-natured (though harassed) and expert kennel man, says he wished all 35 were Dobermans! This strange company of 20 breeds of dog—running the whole gamut of dogdom form undefeated international champions to "Mama's darling Fifi" of uncertain parentage, all in flight from war-wracked Europe, seems a fitting climax to our six month's efforts, under impossibly difficult conditions, to acquire a few first class imports for our kennels.
Of our two weeks' trip to Germany in late April and of the Dobermans we saw there, we will tell you later. At this time we merely announced that, at Jerry Run, and a bit later, in the show ring, those of you who are interested may see our Cherloc v Rauhfelsen, which needs no introduction; his 3-year old grand-daughter, Assy v. Illerblick, out of Ch. Gretl v. Kienlesberg by Ch. Moritz. v. Rodeltal; and Eri v. Notburgatal, a 12-month male, of pure Sigalsburg ancestry, intensively linebred.
—E.H.C.