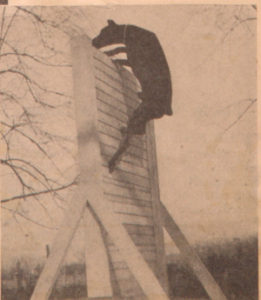 As the Doberman was imported, many were concerned about the training and handling of these dogs. Most of the imports were imports were mature and were already trained in obedience, as well as police work. The dogs bred in this country also needed training. Most fanciers wanted the dog taught to excel in various aspects of guarding, attacking, trailing, etc., for which he was bred. The formation of the Doberman Pinscher Club of America was for the purpose of providing annual trials in police work.
About this same time, Willy Necker was employed as the first trainer for Glenn Staines. Mr. Staines turned his attention from show and police Dobermans to two causes – the Doberman itself and as a guide for the blind. Stanley Donin, also a famous trainer, was the last of Mr. Staines' trainers.
Meantime, in the Chicago area, Mrs. Reynolds was raising Dobermans on her estate north of Libertyville, which was called "Dobe Villa." Here was a large kennel, with many people employed. The training of her dogs was a substantial job, and she permitted others to train their Dobermans at Dobe Villa.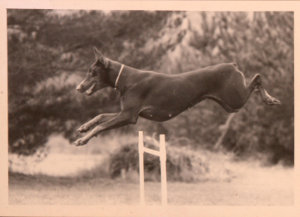 Before long, the need for facilities for individuals owners to train their own dogs brought about the formation of the first "training club" in the country, partly an outgrowth of the work at Dobe Villa. Mr. William Schaefer was responsible for forming and establishing the training program for the North Shore Dog Training Club, an organization which still exists.
No long after the North Shore Club was established; Mr. Schaefer went to Cleveland by request and helped get a similar club under way. Some of the key trainers were Clyde Henderson, Frank Grant, and Maxwell Riddle. Doberman fanciers again had a strong role in the successful training program launched in Cleveland.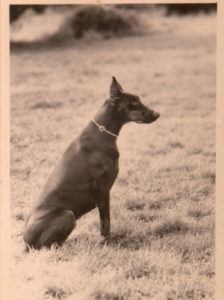 Later, Mr. and Mrs. Frank Grant formed the Michigan Doberman Pinscher Club and also a very successful training club. Mr. Grant personally underwrote the activities of the training clubs. He also wrote a column for several years in DOG NEWS.
Mr. Clyde Henderson, a Doberman Fancier, became nationally famous during World War II for his work in training dogs for the Marine Corps. After the War he returned to Cleveland, where he was a trainer. Mr. Willy Necker was also active in training dogs for the armed services during World War II.
After World War II, obedience was "bursting out" and was adopted by many breeds. German Shepherds had begun a long climb back to national prominence through maintaining obedience as "the" activity for Shepherd people. Doberman fanciers had begun to discover that they could live with their American-bred Dobermans without training them, and training was on the decline. Only the originally devoted and a few converts were strongly active.
At the National level, there was no talk of police trials. The obedience trials held in association with the National Specialty claimed an entry of about 30; an in the early 1950's, the National Club held one without obedience. Roland Horton, obedience judge and Doberman fancier, persuaded the DPCA officers to reinstate obedience the following year on a probationary basis, with the costs underwritten by those interested in obedience.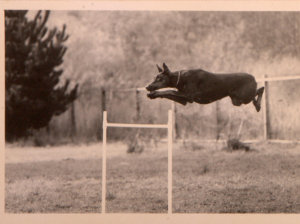 In spite of the decline of Doberman in obedience, there was still a deep respect for the Doberman as trainable. This was largely due to the professionals who had done so much for Dobermans.
Willy Necker had a Doberman act which he put on at dog shows and fairs. He would enter an arena with seven Dobermans, six dogs and one bitch. They would then go through a well rehearsed act of jumping, retrieving, scalling, some clowning, etc.
Ludwig Gessner also did much for the breed through an act he had built around Dobermans he had trained.
In addition to these acts, some well trained Dobermans were taken around to obedience trails, more for exhibition than anything else. Some of the top workers came from Mr. Willy Necker, Mr. Roland Horton, and Mr. Hugh Crebs.
During this period, a trainer in Detroit took Doberman bitch and taught her the rudiments of crossing streets safely. Under the name of "Safety Girl," she delighted thousands of school children and did a great deal to teach them safety. In Wayne, another police officer trained Dobermans to do much of the same sort of demonstration work, as well as guard work.
For many years, there were two training clubs for Doberman fanciers in Chicago, one on the north side, and one on the south side. Fred Kahl held the South Side Doberman Training Club together year after year. The North Side Club held classes only when it was profitable. Both clubs, however, did much for Dobermans in obedience in the Chicago area through their activities.
The Doberman Pinscher Club of Chicagoland promoted obedience very actively form 1953-1958. It held a separate obedience trial for Dobermans one of those years, carried on an intensive campaign to recognize the obedience trained Dobermans owned by Club members, and built a tradition that obedience dogs were shown "in the breed." This tradition was almost a rebellion against the practice of "choosing" one or the other, which was the rule of the time.
After four years of the campaign of the Chicagoland Club, Dobermans were second only to Shepherds in the number of obedience entries at all-breed trials.
Frank Grover
1968