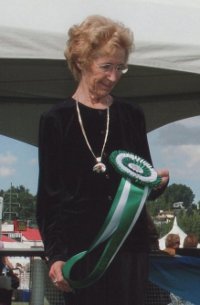 Nancy was born into the world of Dobermans. Her mother, Helen Kamerer was entrusted with whelping Peggy's Ch. Damasyn The Sultry Sister, who was bred back to her grandfather, Dictator. This resulted in a singleton puppy delivered by C-section at the University of Illinois Vet School in 1951, the year of Dictator's death. While describing the just born male puppy to Peggy over the phone, Helen commented that it was the best head Peggy had ever bred. Peggy laughed and said "Helen, you can't tell at this age!" He grew up to become Ch. Damasyn the Solitaire, Dictator's 50th champion. Helen Kamerer's observation proved prophetic. His head is still used as an example of the correct masculine head. (Solitaire's photo appears above and on every page of this website.)
Nancy has served as President of the DPCA, numerous terms as a DPCA board member, and parent club Delegate to the AKC. In the 1950's Nancy, at the request of Dr. Wilfred Shute, revived the DPCA Archives and she served continuously in the position of Archivist and Historian until recently. She still serves as Historian for the DPCA.
Nancy was a committed co-founder of the American Doberman Pinscher Educational Foundation and believes deeply in the importance of carrying forward with Frank and Peggy's valuable work.