"Unless a man has a natural love of dogs he will never make a success of keeping them, for he must be willing to sacrifice cheerfully his comfort and leisure hours doing what is necessary for them."
-Gerda Umluaff –
Gerda Umluaff daughter of respected German judge, Peter Umluaff wrote those words in 1953. This was the golden age for the purebred dog. It was a time of memorable breeding programs from which historic dogs were bred. It was a time of inspiration, passion and the making of great mentors. The following is a story of one of these great mentors. This is a story about, a woman who "sacrificed cheerfully" for a breed she loved so much. It is about her line of Dobermans which she called, Marks-Tey.
"KEEPING" DOGS – LIKE PULLING A RABBIT OUT OF A HAT
Some know from the beginning that a dog is the only companion for them. Some start out looking for a pet monkey and instead end up with a Doberman. Marks-Tey did not start with monkeys but it did begin by breeding champion rabbits called "Tans". Apparently this breed could be considered a Doberman in the rabbit world. Their markings and colors bear a strong resemblance to the breed. However in the end, we now know, it would not be a type of rabbit that made Marks-Tey famous, instead it would be a breed of dog.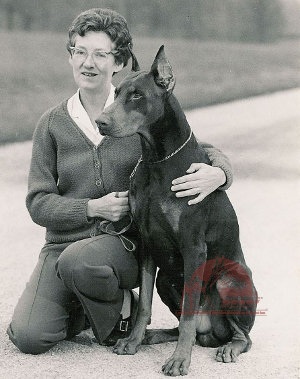 What is the difference between breeding rabbits and breeding dogs? I have been told that there is a saying, "Rabbits are easier to keep than dogs, because you can eat your mistakes". However, Joanna Walker of Marks-Tey boldly proclaims, "I never ate my Tans". Joanna never ate her Tans but she would give up breeding them. In 1946 the Doberman Pinscher would steal her heart. The thief would appear to Joanna in an old DOG WORLD magazine. A black and white photo captured the stunning beauty and courage of the Doberman. After marveling over the photo, Joanna, like many others of that time who fell in love with the Doberman, found her life would never be the same.
Originally the prefix Marks-Tey was the name of an old apple orchard and estate in Hampshire, England. The orchard was developed by two British brothers who were stationed in India during World War I. Once back in England the brothers established the orchard in Hampshire. They then proceeded to erect a large, stone building on the property in which to store the apples. Later a house was built for Mark, the brother who would be the estate's caretaker. However during the building of that house Mark lived in the stone, storage building. In India a small hut was called a Tey. Many jokingly began to call the large storage building Mark-Tey, "Mark's hut". Soon the entire estate became known as Marks Tey.
As a child of fifteen, Marks-Tey was the home Joanna Mary Gilman. This regal old estate was one of Joanna's favorite places to live and her memories of it are still vivid. She was the middle child of three and the only girl. Her mother was a French woman and her father an Englishman. Joanna's parents met when her father was on assignment in France as an engineer. It was difficult in those days for a French woman to live in England but the young bride named Jeanne would her find a way with grace and dignity. Perhaps it was that grace and dignity which influenced the life of her daughter Joanna. Joanna always met adversity with that same attitude. Today we now know Joanna Mary Gilman as Joanna Walker and "Mark's hut" would eventually become one of the most memorable names in the American Doberman.
THE ODD COUPLE
The name Marks-Tey has been carried on by Rod Humphries, long time friend, partner and breeder of Bikila Dobermans. Joanna and Rod have been occasionally referred to as "the Limey and the Wild Aussie". If it sounds like an English comedy it could very well be. While Joanna often recalls the regal old estates of her youth, Rod tells fantastic stories of police raids at his home on "the tough, east side of Sidney, Australia". As different as their upbringings were Joanna and Rod have a shared common goal and interest when it came to the Doberman. And yes, "occasionally they have disagreed. However, through good times and turbulent times, this English and Australian, Oscar and Felix relationship would be respectful and fruitful.
THE HANDSOME AMERICAN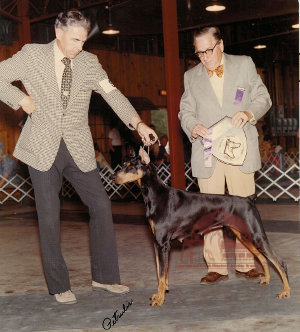 Decades before the "Wild Aussie" Joanna found her American partner. Keith Walker was a young man from a small town in Wisconsin. He was stationed in Germany during the War. Keith was part of a tank brigade liberating the concentration camps. During his tour in Germany he would often make time to visit his relatives in England. Back then a young Joanna was a volunteer at an American Red Cross club called Rainbow Corner. There she comforted the troops, met dignitaries such as Eleanor Roosevelt and served refreshments to famous entertainers such as the Glenn Miller Band.
It was on one of these visits to England where the two were set up on a blind date. Joanna's very French mother was not happy at all about her daughter "spending time" with an American. However, Joanna, a very determined, British born girl with all the fire of the Queen herself, accepted the invitation to show this young American around. Uncertain and a bit skeptical she anxiously awaited her date, a man she had never met before. Joanna was convinced her suitor would either be at best a "nice acquaintance" or at the worst a "complete dud". "What a wonderful surprise he was" Joanna said. "Keith was a tall and very handsome man". The two saw each other, fell in love, and a year later, in March of 1947, they married.
Keith moved Joanna to the United States where they lived for a time in the small lumber town of Haywood, Wisconsin. Joanna remembers Haywood as being "one of the coldest places on earth". Most young girls in a new country would have found the circumstances overwhelming, but not Joanna. Her toughness, determination and resilience which she is still known for today kept her in charge and moving forward.
"EVERYONE KNOWS WHAT KILLERS THEY ARE"
Once settled in Haywood, Keith asked his new bride what she would like from him as a wedding gift. Brides of the time normally would have asked for silver, linens or jewelry but again, not the fiery Joanna! She remembered that old DOG WORLD photo and replied "A Doberman that is what I want!" A Doberman, the family thought! How could this properly reared child want a "killer dog"! Joanna did not let their comments deter her. As Joanna tells it, "another breed was not an option". So in that year the Walkers purchased their first Doberman. She was a black bitch named, Jet. Although only a pet, Jet would be the beginning of a glorious history for the Doberman breed.
Jet was not a quality Doberman but she was in the price range that this struggling couple could afford. The six month old puppy was shipped by train as many dogs were in those days. Keith picked her up at the station. Upon opening the crate door Jet lived up to her name. She took off like a Jet, leaving Keith behind. He finally caught up to her in a nearby pond where she was recaptured. "They both came into the house sopping wet" Joanna recalls. 'That was my first meeting with a Doberman", she said. Joanna remembers Jet as being "very shy". None the less Joanna worked hard with her and she grew into the family pet. Jet was very protective of Joanna's then, one year old daughter Shelia. It was a several months later when Joanna noticed that, "Shelia had learned how to pull herself up holding onto Jet. That is how Shelia learned to walk".
Joanna's English upbringing with dogs was a shock to her new American neighbors. They often see Shelia outside in her stroller with "Jet" the killer dog attached to it. This made for some great neighborhood gossip. However the practice was quite common in England where Joanna says, "dogs went everywhere with us". "Outside of the food stores there were rings. "Mothers would leave their babies in buggies there with the family dog tied to the rings while they shopped."
Jet's greatest contribution, like many of our own first Dobermans, was as a teacher. When it came to keeping dogs the cultural difference between her native country and this new land were quite different. "Most dogs at that time, in America were outside with little or no training", Joanna said. The American public had a distrust of the Doberman breed. Living in Centralia, Illinois at the time Joanna recalled that, "people in town would cross to the other side of the street just to avoid walking near us". "Everyone knows what killers they are", she would often hear them say. It was this distrust of the breed and the lack of dog obedience which drove Joanna to do some teaching herself. Having had some dog training experience from her days as a veterinarian technician in England, Joanna organized Centralia's first dog obedience classes. When asked how she managed to get American dogs from the doghouse to the classroom? Joanna recalls, "I just walked up and down the streets looking for dogs tied out in yards. Then I would knock on the door of the home, compliment the owner on his or her fine dog and ask if they would like to come to an obedience class". "Everyone loves a compliment!" she said. With Joanna's public relations skills and genuine love of dogs the new classes became a great success.
Although now a teacher Joanna was still a student. She desperately wanted a Doberman to show. Joanna studied the few magazines available. She scoured their classifieds on a regular basis and contacted the breeders from the advertisements. She remembered the names of great breeders, the names of their kennels and the dogs they bred. She had seen photos of the great Dictator and fell in love with him. However, Joanna was a bit nervous to contact Peggy Adamson, a breeder she much admired at the time.
Joanna's diligent research, in the end, did pay off when reading the classifieds she stumbled upon the name of Helen Kamerer. This name was one she recognized as a good breeder of Dobermans. Joanna promptly contacted Mrs. Kamerer only to find she had sold her last puppy. As luck would have it, Mrs. Kamerer had a house guest that day. That guest was none other than the famous Peggy Adamson of Damasyn Kennels. Helen handed the phone to Peggy and Peggy gave Joanna the news she was waiting to hear "I have two puppy bitches, one black and one red". The pups were out of CH. Damasyn the Solitaire C.D.X. and CH. Damasyn the Winter Waltz. Joanna replied "I will take the black one". Peggy, known in the breed for producing beautiful heads, wisely guided Joanna toward the red puppy. Peggy said, "The red bitch has the most beautiful head I have ever bred. She will finish easily". "Then I will take that one!" Joanna replied.
Joanna, always interested in learning more, learned quickly from the best how to train and handle a show dog. She credits her handling skills to dedicated Doberman breeders, Jack and Eleanor Brown. She met the Browns at her first match. Joanna chuckled, "Jack saw me fumbling over this lovely untrimmed pup with leather lead and buckle collar. He kindly offered his assistance. He trimmed the pup, fitted her with proper show equipment and showed me a few handling tips, but he would not show the pup for me. Jack wanted to see what I could do with her. " Joanna and her new pup Mitzy that day went on to win "Best Puppy in Match". Later Mitzy and Joanna would take the points in consecutive shows. Keith became interested in his wife's new hobby and tried his hand at showing Mitzy. "He was a natural", Joanna recalled. Keith then took over handling. As Peggy Adamson promised Mitzy finished easily and the Browns became Joanna and Keith's new best friends and mentors. Together Joanna and Keith along with that little red puppy known as Champion Damasyn the Waltzing Brook C.D. waltzed into the Doberman history books and never looked back.
MEMORIES THAT MAKE ME A WEALTHY SOUL
Joanna fondly remembers those days with the late Jack and Eleanor Brown. "They lived in a beautiful home in St. Louis Missouri", she said. "Their home would be considered a mansion even by today's standards. Eleanor was a gourmet cook, an amazing caretaker, and a peacemaker. When it came to animals, Joanna recalls "Eleanor could save anything!" Eleanor will always be remembered for saving the famous Champion, Brown's GiGi, a tiny, sickly, puppy bitch no one wanted.
Jack and Joanna shared similar personalities. Joanna describes Jack then as many would describe her today… bold, knowledgeable and "tough as nails". Joanna says, "Jack was tough as nails but would offer a hand to anyone in need. His passion for the breed did occasionally get him in trouble". Joanna recalls, "At a gathering one evening I had to step between Jack and another breeder who were yelling at one another. The argument was over of all the stupid things, a name of a dog!" When push came to shove and the fists came out, Joanna threw herself between the two titans waving her arms and yelling "Let's not do this here boys" and as quickly as the fight escalated it was over. Joanna says, "no matter what we fought about in those days we always left as friends."
Joanna's own breeding program took off with guidance from the Browns. "Mitzy" an intelligent, easy going bitch was bred to CH. Brown's Eric. Joanna noted "Eric was a beautiful red boy with a gorgeous head, good movement and temperament". Temperament was of great importance to Joanna and it was always of prime concern in her breeding program. Mitzy and Eric produced Ch. Derek of Marks-Tey C.D., who in turn produced many great offspring. One of those offspring was the "second' love of Joanna's life Ch. Marks-Tey Shawn C.D. Shawn was the boy of Joanna's dreams. He was a big red male with looks and of good temperament and character. Shawn and his sire Derek, lived, without conflict for years side by side in the Walker home. Those who remember the two together still fondly refer to them as "The Boys".
By the late 1960's Marks-Tey was making its mark in Dobermans by breeding and exhibiting some of the best specimens in the country. One of the more memorable breedings of this time was Champion Marks-Tey's Melanie to the great champion, Gra-Lamor Demetrius v Victor, "Meats". Joanna spotted Demetrius at a show while she was in a ring judging futurity. She noticed this big, black, twenty-nine inch boy with a gorgeous head commanding the Doberman ring. Joanna said, "I could hardly wait to finish my assignment to see who this dog was, who he belonged to and who he was out of!" Once she saw him she knew she had to breed her Melanie to him. Joanna remembers Melanie as a lovely bitch and Keith's favorite girl. "One could say she was a real "daddy's girl". Melanie wanted no one interfering with her relationship with Keith especially not Demetrius" Joanna said.
The story is told that the stubborn Melanie would have nothing to do with this big brute of a dog. Melanie snapped and bit at the strapping young lad every time he attempted a move. A frustrated Grace Moore tried time and time again, almost to the point of giving up. Melanie was pretty pleased with herself as she exited to her crate. Things seemed to be going her way, until Demetrius took matters into his own paws. Before the crate door had a chance to close, he quickly went into action and bred the young girl before she knew it she was happening. When it was all said and done a very angry Melanie stomped her way to the water pail and knocked it over. Although the two never made a love connection they produced a beautiful liter of puppies. Some say that the Demetrius head along with his personality still pops up even today and there is always a Melanie around the corner to nip at it.
These memorable times, good friendships and simple beginnings produced some of the most complex pedigrees and finest examples of the breed in Doberman history. These friendships and good times are also what Joanna misses the most about the glory days of the past. "I think motorhomes were the worst thing that happened to dog shows, she said. Instead of getting together like we used to after a show, everyone today stays in their motor homes. Oh, we had so much fun meeting at nearby homes, restaurants or hotel rooms! These were the places we learned the most about breeding and exhibiting. We could talk to breeders we admired, examine dogs and talk about pedigrees. Today there is none of that kind of comraderie that we had".
Joanna remembered back then how everyone worked together to breed great dogs. She remembered how each breeder in their own way contributed to educating the public about the Doberman. She herself continued to promote the Doberman in breeding, exhibiting and obedience work. In the 1970's Joanna began writing regular columns for the local newspapers. She authored and co-authored various books and publications on the Doberman Pinscher. Joanna also ran a well organized program to rescue abused Dobermans. She knew all too well what it meant to sacrifice her needs for dogs in need. When she was a young vet tech in England she recalled the dark days during the war. "People did not have enough food to feed themselves. One by one they began leaving their pets at our clinic. I remember so many dogs had to be put down bodies were stacked one on top of another until the truck could come to take them away " Joanna saved a young Greyhound named Bess from this fate. She shared what little food she had with Bess. "We did not have any proper dog feed at the time she said. Just to get food ourselves we had to stand in line for rations each week. They would give us of two ounces of meat. To feed Bess I would buy brown bread, crisp it in the oven, break it up and mix it with a bit of meat. It was hard to share what little we had at that time".
In America Joanna found plenty of food to help give unwanted Dobermans a second chance. Today Joanna proudly displays a framed dog food advertisement in her office. It depicts the miraculous transformation of two extremely malnourished Dobermans that Joanna saved from certain death. I am sure it is of great comfort to Joanna to have had more than two ounces of meat each week to share with the hundreds of Dobermans she saved. Her compassion combined with her experience as an accomplished breeder made sure each Doberman she placed was a good representative of the breed.
Today, Joanna is known mostly for her work with Pilot Dogs, guide dogs for the blind.
She learned about guide dogs when she was in England. "A woman from Indonesia named, Mrs. Lamb trained Alsatians for the blind in England. She allowed me to help her and I became very interested in their training. The first Doberman guide dog I had ever seen was from Glenn Staines, founder of Pathfinder Dogs which is now known as Pilot Dogs."
For decades the Walkers provided Dobermans for the "Pilot Dog Program". They also contributed financially and assisted in fundraising. In the summer of 2001 however, the Walkers were given devastating news concerning Keith's health. He was diagnosed with pancreatic cancer and given only months to live. The news was a blow to all in the dog world who knew Keith. He was a kind, caring, giving and an absolutely selfless man. During his illness he was found often more concerned for the comfort of his house guest him than for his own health. He would apologize to visitors when he was not up to going out to dinner that night.
Somehow Keith managed to keep a sense of humor about it all. He would joke about his cancer medication which oddly enough gave him a lovely thick head of hair. He always seemed to find a way to make you laugh. I can still remember picking up a puppy to foster for Joanna in 2001. Keith lowered the angry, barking puppy named Glory Bea into our truck. This "red she devil" was to be ours for the year! Keith smiled mischievously as he waved good bye and chuckled "GOOD LUCK!" Keith touched so many lives including the lives of the dogs with him at that time. They tended to his every need sensing the seriousness of his illness. Tana his red girl stood steadfast by his side. Tornado a visiting Bikila Marks-Tey boy, laid his head in Keith's lap, his eyes raised and fixed on Keith's face while he slept in his recliner.
Unfortunately the cancer took Keith from us in July of 2003. He passed away quietly with Joanna and Tana by his side. Gone now from Joanna was her first love, her partner and her inspiration but not his spirit and with that Joanna continued to struggle forward. In Keith's honor a new training center was built at the Columbus, Ohio Pilot Dog facility. This beautiful state of the art training wing is appropriately named "THE WALKER TRAINING CENTER". Joanna says, "It is one our greatest accomplishments".
Joanna and Keith's accomplishments are many. Long time members of the Doberman Pinscher Club of America, Joanna received its lifetime achievement award in the fall of 1993. Many dogs which Joanna and Keith bred received national honors. Last summer, my husband and I had the honor of spending time with Joanna at her home. Her office is appropriately adorned with Doberman photos trophies statues and plagues. There I sat cross legged, in a big easy chair with photo albums in lap. Joanna was beside me stretched out on the floor like a teenager among her pedigrees and scrap books, and behind a grand old desk sat my husband.
Joanna, the great mentor she is, was eager as always to share her time, knowledge and memorabilia with us. During our visit Joanna regaled us of the stories of what seemed not so long ago. We rustled through page after page of black and white photos of great dogs and great people. We laughed at the innocent faces of yesterday that became the judges of today. We searched through hundreds of pedigrees; as if we were looking for that perfect stud. As the time progressed the photos turned from black and white to faded colors of the seventies. They took us back to moments with historic Dobermans, pool side parties, dinners and banquets. Back to a time when the young wanted to learn and the legends of the breeds eagerly taught.
Like so many great dog people of the past, Joanna and Keith gave their all in order that the Doberman breed survive for a new generation to enjoy. We simply cannot replace that inspiration of the great mentor with the technology of a computer. Sadly the puppy matches where Joanna met the Browns have all but disappeared. The dinners, parties and banquets where the great ones offered advice and the novice dreamed have become only sweet reveries. Today many may feel the great mentors are gone, but I tell you they are not. They are there just waiting for us in books and photos on a hill in North Carolina in a place I like to call "Marks Hut". It is here we find not only our past, but hope for our future.
CinDee Byer