Pathfinder Guides for the Blind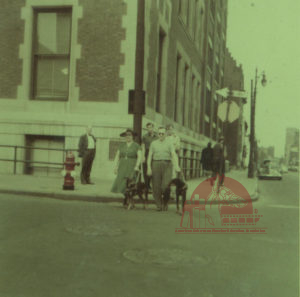 The use of Doberman Pinschers as guide dogs for the blind was the brainchild of Glenn S. Staines of Detroit, Michigan. The son and only child of Michigan farmers, Glenn helped pay for his studies at Big Rapids College by playing the piano at local dances and in movie houses in Ann Arbor. His mother, Nellie Scott Staines, taught piano and her son Glenn, was a good student as he loved to play. After getting his BS degree in Pharmaceutical Science in 1909, he opened a drug store which he later sold when war came and he joined the army. When he returned home, he became the owner of Glenn's Pharmacy, 4161 Woodwood Detroit, Michigan. He was married for a brief period of time, three years, and his mother lived with them.
It was in 1920 that Glenn first became interested in Dobermans after the loss of his Pit Bulldog, Jiggs, who drowned after falling off a pier and was swept away to his death. Glen was heartsick and wrote to a friend about his loss. This friend sent him a Doberman bitch called Judy of Detroit and this was the start of Pontchartrain Kennels. In 1921, he imported some top Dobermans from Germany, including the immortal Lux and the famous Figaro. The Pontchartrain dogs became the big winners of that time and were much in demand. Yet Glenn was always willing to help the novice with their new puppy or a young breeder with a litter.
Long before obedience was organized, he was interested in training as he believed in the high intelligence of the breed. In 1931 shortly after the Doberman Pinscher Club of America's National Specialty, he brought Willy Necker, who was then little more than a boy, to Pontchartrain. They established a program that proved how very trainable this breed could be. Another of Glenn's trainers was Roy Lewellen, a veteran with such shows as Barnum and Bailey, Clyde Beatty's and others. Soon they had 100 dogs in training. They trained all breeds at that time.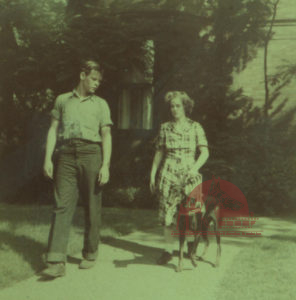 Glenn purchased several dogs through Mr. Fleitmann of Westphalia fame; however, as time passed they began to favor two different types of dogs. While each did not care for what the other was breeding, they still remained friends and visited in each other's homes. Glenn was very concerned with temperament and trainability. However, the judges seemed to favor the Westphalia type of dog and in the end Glenn gave up showing to concentrate on his own line. He was also active in the affairs of the DCPA, of which he was President for three years, 1929-1931.
It was in 1936 that he met a man who introduced him to T.W.Pritchett, a blind man from Evansville, Indiana, who had been turned down by a guide dog school as being too old to use a guide dog. At the time, Walter Lindner was training Pontchartrain dogs and they decided to try to train a dog for this man. Quite unexpectedly the man showed up at the kennel before they had finished training the dog. He was, no doubt, anxious to met his dog, and since he was without enough funds to travel back and forth, they agreed to let him stay. They got busy with some very intensive training of man and dog. A few weeks later the old man left with the very first Pathfinder Doberman, trained as a guide dog. This team of man and Dobe was most successful and from then on Glenn's whole life and interest turned to training Dobermans as guide dogs. This dog guided Mr. Pritchett for the next nine years.
The Pontchartrain Kennels was located in Royal Oak, Michigan at this time but as the Pathfinder operation increased they were running out of room for the guide dogs. So these dogs were moved to a large house at 223 Elliott Street in Detroit and Glenn and his mother lived there, along with the blind students. The breeding stock remained in Royal Oak. By 1951, over 1,000 Pathfinder Dobermans had been placed with blind owners. The normal cost for these dogs was $200 to cover the cost of the care of the dog for four months of training. This was the only way Glenn could help as many blind people as he did. He sunk just about everything he made in his drug store into the school. He also donated many dogs to those who simply could not pay and in 1945, he offered dogs free to blinded veterans.
Pathfinder dogs were in demand right up to June 25, 1951, when Glenn Staines suffered a massive stroke which left him nearly blind. He died on July 7, 1951, at the age of 64. His obituary from the annual Doberman issue of Dog News 1951 follows;
"Had you been at Glenn's funeral the wealth of floral offerings would have mutely told you of the affection and respect with which thousands of people throughout the country regarded him, but it would have been the many, many blind people with their Doberman guide dogs which walked down the aisle of the chapel at the funeral that would have made you realize that as great as Glenn's contributions were to every phase of Dobermans, it was the Pathfinder project which will serve as an ever lasting tribute to his memory"
Joanna Walker
Marks-Tey and Pilot Dogs